Day 2 Bournemouth
Saturday 9 September
arrival in London • lunch on the Thames • scenic rail journey • seaside sunset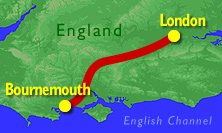 I will be at London's Heathrow Airport to meet all guests arriving by air. We'll then travel into central London to rendezvous with the rest of the group. Outdoor lunch on the South Bank of the River Thames.
In the afternoon we catch a train to the coast from London Waterloo rail station. Our route passes through the rolling countryside of Hampshire, and the New Forest – a royal hunting ground that once provided most of the oak timbers used in the construction of the British Navy's battleships.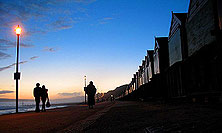 5pm: arrive in Bournemouth. This is a youthful and happening resort town on the shores of the English Channel, with great food and nightlife, and a fantastic five-mile-long beach. Overnight at the Balincourt Hotel, a friendly bed and breakfast in a leafy area near the railway station. We've got the evening to relax and explore the town and waterfront.
If you're a surfer, or you'd like to give it try, the Bournemouth Surf School is excellent. It's on the beach near Boscombe Pier.
All text, site design, maps, and photos © David Wenk 2006 except where credited otherwise.
Be the first to hear about new adventures. Email me at wenk@btinternet.com to subscribe to my trip alert list.