Day 6 Cream Teas at the Castle
Wednesday 13 September
the market towns of Dorset • private tour of Lulworth Castle • beachfront dinner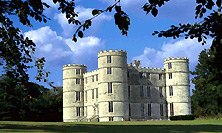 Rest, relaxation, and a bit of luxury this afternoon. We've had a busy itinerary since leaving Bournemouth, so today we'll recharge with a leisurely castle visit and some time on the beach. Minimal walking on today's agenda.
Our destination is West Lulworth, an idyllic village tucked in a valley by the sea. To get there, we must bypass the Lulworth Ranges, a chunk of coastline requisitioned by the British Army during World War II. This land was used as the main rehearsal ground for the D-Day campaign. The area is best avoided on weekdays, when it turns into a live-ammunition tank firing range.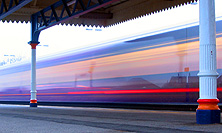 A short morning stroll returns us to the town of Corfe Castle, where we continue on by bus and train to Lulworth. En route we'll pass through the historic market town of Wareham with its museum dedicated to local hero T E Lawrence (aka Lawrence of Arabia), and the sleepier town of Wool, the setting for parts of Thomas Hardy's novel, Tess of the d'Urbervilles.
Our bed & breakfast in Lulworth is Burngate Farm. It's about halfway between the castle and the cove, the main local attractions.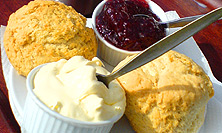 After checking in, we'll have a private tour of Lulworth Castle, a fairytale fortress built in the Jacobean era as a lodge to host royal hunting parties. The adjoining chapel and castle grounds are particularly beautiful. As part of the tour we'll be treated to a luxurious Dorset cream tea.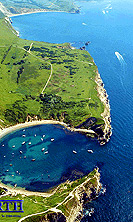 We leave the tranquil castle gardens behind and head for a swim at Lulworth Cove. This gorgeous little bay sits a mile down the road from Burngate Farm, and is sheltered by high cliffs on all sides, save for a narrow entrance. Next door to it is Stair Hole, a bizarrely eroded cove where you can see 150 million years of geological history compressed into a single span of rock.
Evening meal at The Beach Café. This world-class seafood restaurant is literally a stone's throw from the calm waters of Lulworth Cove.
All text, site design, maps, and photos © David Wenk 2006 except where credited otherwise.
Be the first to hear about new adventures. Email me at wenk@btinternet.com to subscribe to my trip alert list.