Day 9 London
Saturday 16 September
London sightseeing, festivals • gourmet dinner • West End show • farewell party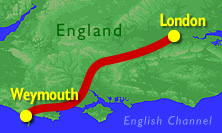 Early breakfast at the Windsor, then we head to the railway station for our train back to London. Departing Weymouth, watch out on the left side for Maiden Castle, the largest hill fort in Britain. It's over four thousand years old.
We arrive in London around noon, in time to catch the Great River Race. This crazy annual event pits Viking longboats against Hawaiian war canoes and other exotic vessels as they race each other down the River Thames in the middle of the city.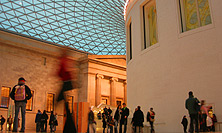 Lunch, then we've got the afternoon free to explore London. Two unmissable events being held this weekend are the Mayor's Thames Festival, an outdoor arts extravaganza that attracts half a million visitors, and Open House London – a once-a-year opportunity to tour the interiors of over 500 of London's finest private buildings.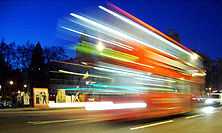 Tonight we celebrate the end of our trip in style. We'll start with a pre-theater dinner in Soho before continuing on to a West End show. Then, anyone who wants to keep going can join us for a night out sampling the pubs and clubs of London – with over 7000 to choose from, we might be up late!
This evening we're at the Luna & Simone Hotel in Belgravia, a quiet, centrally located neighborhood just north of the Thames.
All text, site design, maps, and photos © David Wenk 2006 except where credited otherwise.
Be the first to hear about new adventures. Email me at wenk@btinternet.com to subscribe to my trip alert list.