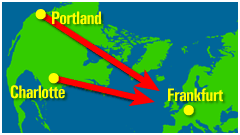 Irina, Ed & Jonica fly overnight from the US to Frankfurt.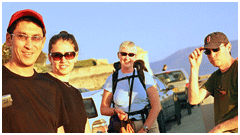 Introducing the group (from left to right): Ed, Irina, Jonica & Will.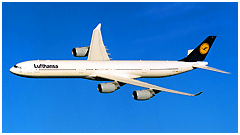 Jonica flies Portland to Frankfurt on a Lufthansa Airbus A340. The ten-hour nonstop flight takes her over Greenland and Arctic Canada.
Friday, October 21st
It's an autumn afternoon in America. Night time in Europe.
Will
, an old friend of mine from Boston, flew over a few days ago to visit me here in London. Right this second we're at my flat, up late packing. We must be at Heathrow Airport by 5am tomorrow.
Meanwhile, five thousand miles away, another adventurer is starting her journey. Jonica, a 45-year-old mother of three from Portland, Oregon, has arrived at PDX, where she checks in for a nonstop Lufthansa flight to Frankfurt, Germany.
At the same time, on the East Coast, a young Russian couple — Ed and Irina — are making a last-minute camcorder purchase at a Best Buy in Charlotte, North Carolina. In just a couple of hours they are due to board US Airways flight 192, destination Germany.
If all goes well, these five strangers will rendezvous tomorrow at Frankfurt Airport, Gate A27. And then, continue south ... to the Mediterranean!