Introduction In the fall of 2005, I set out to organize a group hike on the island of Corsica. This is the story of how that trip came to be, and what happened to us there.
For anyone unfamiliar with Corsica, I've written a short introduction to set the scene. It's followed by a day-by-day account of our trip. Enjoy! --DW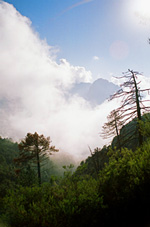 The mountains of Corsica.
Photo © David Wenk.
About Corsica Of the hundreds of islands scattered throughout the Mediterranean Sea, only one encapsulates all the diverse climates and terrain of mainland Western Europe. That island is Corsica, 600 miles of wildly indented coastline intercut with pristine beaches, secluded coves, and tranquil fishing villages, all encircling a rugged upland interior home to jagged peaks which soar to over 8000 feet.
The trip A few years ago I had the opportunity to visit Corsica, and ever since that brief stay, I'd wanted to return to get a better look. So, in October 2005, I planned a one-week hike on the Tra Mare e Monti trail, a long-distance footpath that meanders along Corsica's gorgeous northwest coast, running from the sea into the mountains and back again.
The route of the
Tra Mare e Monti
trail, from Galéria to Porto.
Map © David Wenk.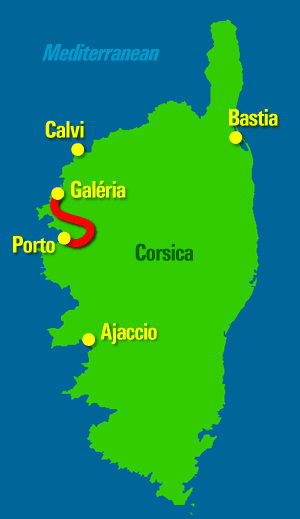 The route I had in mind would involve making overnight stops in tiny fishing villages, dining on meals of wild boar and homemade wines in remote mountain hamlets, and exploring the ruins of Corsica's Italian heritage and prehistoric past. With plenty of time on the side to savor the warm beaches and waters of the Mediterranean, of course.
I sketched out an itinerary, published it on my website, and invited the world to come along.
In the end, four brave people signed up. One was a friend. The other three were complete strangers who had read my post on Craigslist.