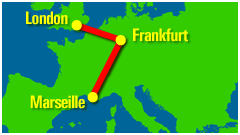 Today Will and I fly back to London. We say goodbye to Jonica, Irina, and Ed, who fly back to the States tomorrow.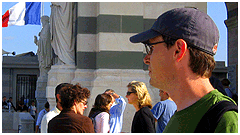 Will checking out the view on the concourse outside the cathedral of Notre Dame de la Garde.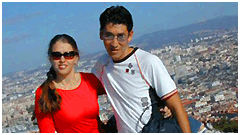 Ed and Irina sitting on the wall of Notre Dame de la Garde. The city of Marseille sprawls away in the distance behind.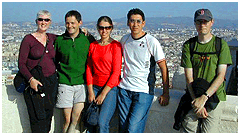 A happy bunch. Posing for a last photo at Notre Dame de la Garde.
Sunday, October 31st
We disembark from the
Napoléon Bonaparte
at first light and head to the Vieux Port to clear our heads with a coffee. No omelettes here; it's back to the old croissant regime.
Then on, past the morning outdoor fish market on the pier, to the Hôtel Rostand, where France greets us with open arms. Ed, Irina and Jonica check in, but not Will and I. The two of us are flying out today on the afternoon Lufthansa flight back to London via Frankfurt.
The gold-capped basilica of Notre Dame de la Garde stands atop a high hill on the edge of Marseille's city center. It's a fabulous viewpoint and popular tourist attraction. After five or six days of walking we are practically addicted to the activity, so a jaunt to the top seems the most natural suggestion in the world.
With the cityscape of Marseille at our feet, we snap a few group photos on the terrace outside the church and bid farewell. It's a bittersweet end to a fabulous week.
You can read about more trips on my Adventures page.