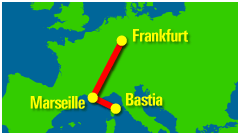 We plan to meet up in Frankfurt, fly to Marseille, then catch an overnight ferry to Bastia on the island of Corsica.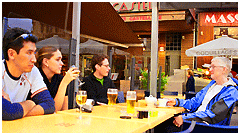 "Where's dinner?" Waiting on crustaceans at an outdoor café in Marseille.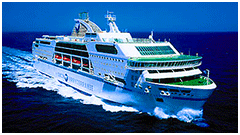 Our ship to Corsica: the 2300-passenger
Danielle Casanova
.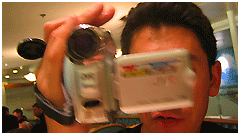 "OK guys, we're recording now!" Ed tries out his favorite new toy aboard the
Casanova
.
South to the Mediterranean. Bienvenue en France!
Saturday, October 22nd
It is now mid-day and pouring with rain in Frankfurt. But everyone's happy: we've all made it to the gate on time for our connection to Marseille.
Flight LH4352 climbs out of the dour overcast and turns south to skirt the Alps. Two hours later we hop off the airport shuttle bus at Gare St Charles in downtown Marseille. So nice to be back in t-shirt weather — there's just a hint of autumn in the air here.
On their return from Corsica, Ed, Irina and Jonica are staying an extra night in Marseille at the Hôtel Edmond Rostand, so we decide to make this our base until it's time to catch the ferry. A cross-town stroll takes us past streets full of life and enticing aromas of dinners in the making.
The Rostand's owner, named France, welcomes us warmly. Relieved to be free of our bags, we discover an outdoor café nearby and sit down to a delicious meal of coquillages (raw mussels, oysters on the shell, and other very fresh seafood delicacies).
Nightfall. Taxi to the docks. We board SNCM's spanking new cruise ferry, the Danielle Casanova. After showers and a rest in our private cabins, the five of us reconvene for a late snack in one of the ship's restaurants, as the Casanova sets sail beneath a black night sky for the Ligurian Sea and Bastia. Then blessed sleep. By dawn tomorrow we'll be in Corsica.