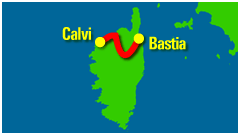 Today we take a narrow-gauge train through Corsica's mountainous interior to Calvi.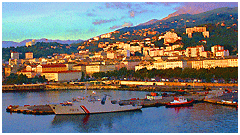 Bastia harbor bathed in morning light. The French Navy's gunboat
Arago
, moored in the foreground, has seen action in the night; she intercepted an Italian trawler allegedly fishing in French waters.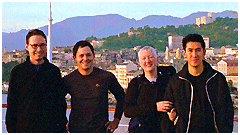 Irina snaps a group portrait: Will, David, Jonica & Ed on Deck 7 of the
Danielle Casanova
.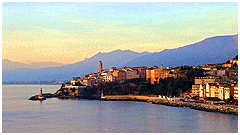 And here's a last shot from the
Casanova
before disembarking. In a few hours we'll be up in those mountains ...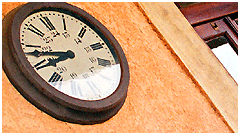 The station clock tells us it's nearly time to catch our train. Which turns out to be a bus.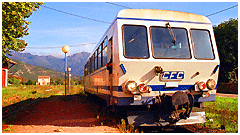 Our train pauses to catch its breath at one of the dozens of tiny village stations along the route to Calvi.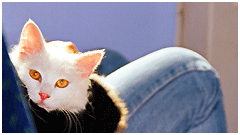 Ticket to ride: a cat reclines on a girl's lap across the aisle from us. This train caters to customers of all kinds!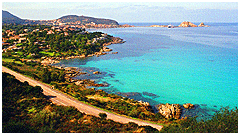 Crystal-clear Mediterranean waters: a view from the train window as we approach Ile Rousse.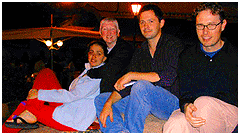 Irina, Jonica, David & Will on the church steps in Calvi after dinner at
Le Santa Maria
.
Sunday, October 23rd
Back when I was organizing this trip, I stumbled across a website run by Henri Straforelli, a Canadian internet entrepreneur who last summer emigrated from Vancouver, British Columbia to go and live a year in Corsica — the land of his forefathers. Henri's
blog
was a tremendous help to me when planning the travel logistics. After a few emails back and forth, he and his American wife Cara suggested we catch up for a drink on our arrival. So ...
Up early and off the ship by 8:15am. It's a beautifully sunny, crisp autumn day in Bastia (population 50,000). As if by magic, there at the town square are Henri and Cara! We all breakfast together on coffee and croissants at a café on the harborfront. PS Thanks a million H&C; it was so good of you to meet us — we were honored by the welcome and really enjoyed your company.
Once we're all sufficiently caffeinated, Henri and Cara see us to the train station. The stationmaster sombrely informs us that the first third of our rail journey to Calvi has been replaced with a bus service. No big deal. Bus is practically empty, but still seems to requires a staff of two: driver plus ticket collector. With 50 Cent blaring over the PA, we careen south out of Bastia for the short, high-speed journey to Casamozza, where our single-carriage narrow-gauge train awaits.
The Corsicans call this train Il Trinighellu, or the "trembling train". It certainly does that! For the next three hours the train clatters and rattles over ever higher viaducts and roars through countless tunnels. The views of passing farms and towering mountains are stunning. As is our first sight of the sea where the tracks rejoin the coast near Ile Rousse. The water is a gorgeous azure, and looks so warm and inviting we're tempted to get off the train immediately and jump in.
But we wait for Calvi, the end of the line. Everyone's looking forward to getting a good night's sleep in a bed that isn't moving. Following a long, lazy lunch at a waterfront restaurant, we check into the Hotel Belvédère, opposite the citadel. An hour later we've swapped our traveling clothes for swimsuits and trunks and are bobbing in the warm, buoyant waters of the Mediterranean. It is the perfect antidote to a long journey.
Dinner that night is at Le Santa Maria, a cozy outdoor seafood restaurant situated in a quiet cobbled courtyard beneath the floodlit face of an old church. It's a happy meal and everyone is full of anticipation for tomorrow, the first day of our hike.