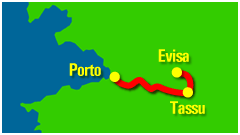 Today we head back down the valley to the beach at Porto.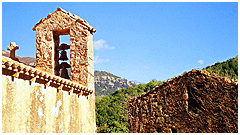 Bells still hang in the church tower at Tassu but there's no-one left to ring them now: the village is deserted.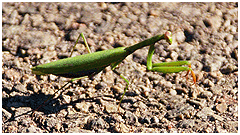 A praying mantis basking on the warm asphalt of a road in Marignana.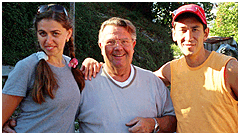 Irina and Ed pose with our driver Salvatore.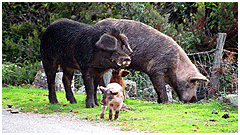 A family of wild pigs out hunting for chestnuts on the Porto road.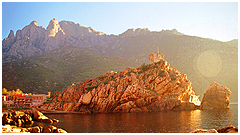 Porto at last! Our hotel is just left of this shot.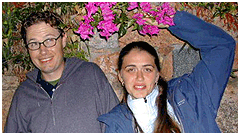 Will and Irina pose for a snap at
La Mer
.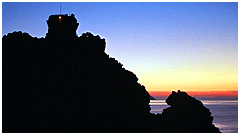 The view over the Golfe de Porto from our hotel balcony at
La Cyrnée
.
Mountains behind us. Warm beaches ahead.
Friday, October 28th
We all sleep in late today, and after a morning spent writing postcards home, set off on the short walk around the head of the valley to the next village of Marignana.
It's another gloriously sunny day, but whereas on days past we've been surrounded by the feel of summer, up here high on the mountain the mood is distinctly autumnal. Thousands of dark brown chestnuts litter the path, and golden leaves fall around us. The air is crisp.
At Tassu we stop for a picnic. Half a dozen empty houses and a church comprise this crumbling settlement, last inhabited in the early part of the 20th century.
None of Tassu's farmers ever made the switch from the horse and cart to the tractor, and as a result their livelihoods slipped away when competition from big farms on the island's eastern plains drove them out of business. So we're rather surprised to find a woman clad in an ancient black dress wandering between the ruins with an armload of kindling.
Somewhere, unseen to us, a voice sings mournfully. We begin to wonder whether we've fallen back in time to 1900. Then a bank of cameras and sound equipment appears. It turns out we've unwittingly stumbled onto the set of a Corsican music video!
By mid-afternoon we've reached Marignana. Everyone here seems to be indoors and asleep, except for a donkey and a friendly gentleman by the name of Salvatore, who offers to drive us down to Porto for a very reasonable price. We look at our watches and imagine how nice it would be to just stretch out on the beach and relax.
The beach wins. An hour later, we've all waved goodbye to Salvatore and have checked in at La Cyrnée, our waterfront hotel in Porto. It was the right choice.
That evening: a sublime sunset from our hotel balcony, then dinner at one of Porto's top-rated fish restaurants, La Mer.
Our walk is over. Ahead lies Ajaccio.