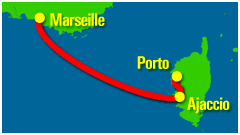 By mail truck to Ajaccio, then on to Marseille aboard the
Napoléon Bonaparte
.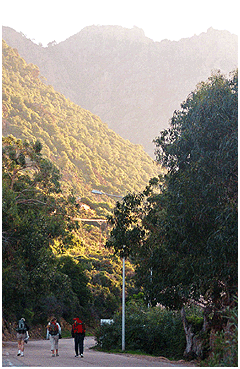 Leaving Porto after breakfast. We have to stroll half a mile up the road to the bus stop by the pharmacy.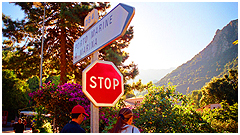 A last look at the scenery of Porto valley before catching the bus down the coast to Ajaccio.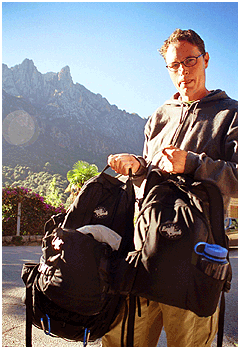 Posing for eBay. When he gets home, Will plans to sell his old rucksack (pictured) and get a new one. Any takers?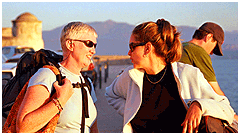 Jonica, Irina, and Will on the sea wall at Ajaccio.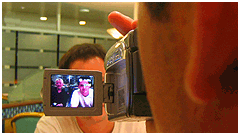 Ed's view of our vacation. This was taken on board the
Napoléon Bonaparte
. Unfortunately, his camera battery ran out before we reached the ship's nightclub.
South to Ajaccio. Overnight ferry to Marseille.
Saturday, October 29th
One thing's been bugging Ed during this trip: his continual and so-far-fruitless search for an omelette. Everywhere we go it's just coffee, croissants and bread for breakfast. We've not seen a single egg in all of Corsica. The emphatic "Non!" of restaurant managers to Ed's request has by now become a daily ritual which the rest of us endure with "I told you so" looks on our faces.
This morning seems to be no exception as we sit down for a quick bite before catching the bus to Ajaccio. But our initially brusque host turns out to be quite genial, and, wonder of wonders, an omelette appears midway through our meal. Suddenly Ed has a new hero. He's so happy he even videotapes his plate of eggs for posterity.
Our "bus" picks us up from outside Porto's pharmacy. It's the local mail truck, with a few seats added up front for paying passengers. We cram in and set off up the twisting and perilous coastal road. The views are spectacular and petrifying, particularly so when our driver swerves to avoid oncoming traffic on the single-lane road.
We make brief stops at post offices in Piana, Sagone, and Cargèse, a seaside town notable for its Catholic and Greek Orthodox churches and large Greek community. It's early afternoon when we roll into the big city of Ajaccio.
We've got a few hours before our ship sails tonight, so we decide to make a base for ourselves on the beach. While Will and I go swimming and make a picnic lunch of some pizzas, Irina, Jonica and Ed head off shopping for souvenirs. All reunite back on the sand just as the tide begins to lap at our beachtowels.
Sundown. Our ferry, the Napoléon Bonaparte, hoves into view as we sit on the harbor wall finishing off the last of the wild boar salami given us as a gift by our hotelier in Evisa.
At 9pm we set sail for Marseille. There's talk of visiting the indoor hot tubs on Deck 10 but in the end we're all too tired. Instead we opt for a simple dinner. Afterwards we fall into a circle of plush armchairs at the over-the-top Café-Bar Le Galaxie and order whiskies.
Onstage, a couple of washed-up French lounge singers with a synth and a drum machine belt out covers ranging from the Beach Boys to "Lady in Red". They sing the words phonetically, clearly clueless to their true meaning. It's truly atrocious and we all crack up laughing. But Jonica, a few French teens, and two four-year-old kids take things in the right spirit and hit the dancefloor. The rest of us head for our cabins.
Tomorrow: all's well that ends well.