Day 1 To London
Friday 8 September
today: overseas guests fly to London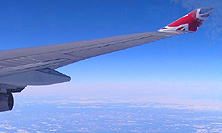 If you're joining us on this trip from the United States, Canada, or elsewhere outside Europe, you'll depart this evening on an overnight flight to London.
*Guests starting their journey from the UK or Europe will travel to London early tomorrow morning.
All text, site design, maps, and photos © David Wenk 2006 except where credited otherwise.
Be the first to hear about new adventures. Email me at wenk@btinternet.com to subscribe to my trip alert list.