Day 7 Dinosaurs at Durdle Door
Thursday 14 September
giant stone sea arch • deserted medieval village • Roman fort • whitewater trip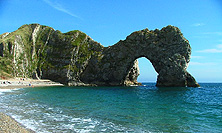 Breakfast at Burngate Farm, then we head down the road through West Lulworth village to regain the coast path near Lulworth Cove.
The climb up the hill at Hambury Tout is steep but short, and once we've reached the top, a breathtaking vista opens out before us. A line of stunning sand beaches stretches away towards Weymouth, framed by a huge natural stone arch. This is Durdle Door.
We have time for some fossil hunting (ichthyosaur vertebrae have surfaced here) and a brief tea break on the beach before continuing west by way of Bat's Head and the curiously named valley of Scratchy Bottom.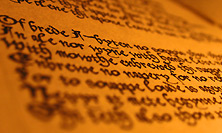 By late morning we reach the deserted medieval village of West Ringstead. The Domesday Book speaks of a sizeable settlement here in 1086, but it has been several centuries since anyone lived here. The reason for its abandonment is unclear. We should still be able to discern the outlines of some of the ancient dwellings that stood on this site.
Lunch at the Smugglers' Inn pub in Osmington Mills. Try a bottle of River Cottage Stinger, a locally brewed beer that's made from hand-picked stinging nettles (tastes better than it sounds).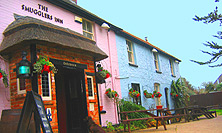 Fortified by good food and beer, we make our way into the large port town of Weymouth, which is due to host portions of the 2012 Summer Olympics. En route we pass Jordan Hill Roman Temple. Archeologists have identified this as a late Roman site, which puts its origins back to the 4th century AD.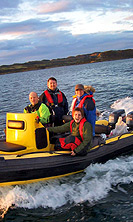 At 4pm we're booked to take a ride with Weymouth Whitewater. This outfit runs thrilling powerboat tours up and down the coast aboard their fleet of high-performance 450hp rigid inflatable boats. The two-hour excursion makes for a fantastic preview of our destination tomorrow, the Isle of Portland.
Afterwards we dry off and check in at the Windsor Hotel – our accommodation for the next two nights – then go out to enjoy a well-earned dinner in Weymouth town.
All text, site design, maps, and photos © David Wenk 2006 except where credited otherwise.
Be the first to hear about new adventures. Email me at wenk@btinternet.com to subscribe to my trip alert list.