Day 3 Around Poole Bay
Sunday 10 September
beach walk • picnic lunch • island nature reserve • country pub & brewery
Today we start our walk on the Jurassic Coast. After breakfast at the Balincourt, we'll stroll down Bournemouth beach to the exclusive peninsula of Sandbanks.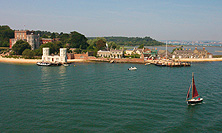 Our first stop is Brownsea Island, a nature reserve in Poole Harbour. It's just a short boat trip away from Sandbanks. Red squirrels, scarce elsewhere in England, flourish on the island. Brownsea is also home to free-ranging peacocks and a herd of Asian sika deer, and it was here in 1907 that Robert Baden-Powell established the world's first Boy Scout camp. We'll aim to have a picnic lunch on the beach near Branksea Castle – a stately home on the south side of the island.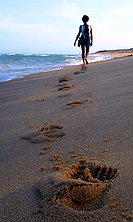 Ferry to Studland Beach, a gorgeous stretch of surf, heath, and sand dunes. Officially designated as an "Area of Outstanding Natural Beauty", Studland is known for its beautiful butterflies, and is the only site in the country coinhabited by all of England's native reptile species.
During World War II, the beach was used as a training ground for the D-Day landings. These days it's a popular destination for sunseekers, naturists, and TV crews; this is the spot where Michael Palin crawled out of the sea to introduce the first episodes of Monty Python's Flying Circus, and Coldplay shot the video to their hit single Yellow here.
Overnight in Studland village at the ivy-covered Bankes Arms, a pub noted for its good food and locally brewed ales. The strongest variety normally available on tap, "Studland Bay Wrecked", is recommended.
All text, site design, maps, and photos © David Wenk 2006 except where credited otherwise.
Be the first to hear about new adventures. Email me at wenk@btinternet.com to subscribe to my trip alert list.