Day 4 Across the Purbeck Hills
Monday 11 September
clifftop walk • steam train excursion • 11th-century castle • scuba diving lesson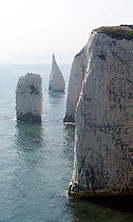 The landscape on today's route gets more rugged. Setting off from the Bankes Arms, we make for the promontory at Handfast Point, now more commonly referred to as The Foreland. Its earlier name harks back to an ancient Celtic wedding ritual in which the bride and groom's hands were bound together, leading to the origin of the phrase "to tie the knot".
It would certainly make for a romantic spot to get hitched. A spectacular series of chalk stacks towers out of the sea here, and the adjacent 360-foot cliffs at Ballard Down provide a majestic panorama over the English Channel.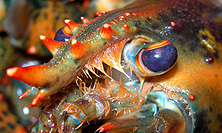 Continuing on, we keep to the coast path and descend into the sheltered Victorian seaside resort of Swanage.
This town is justifiably popular with scuba divers, who come to explore shipwrecks like that of the SS Kyarra, a 6000-ton liner torpedoed here by a German U-boat in the dying days of World War I.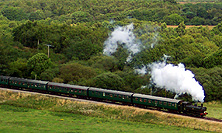 As an optional activity today, we'll go for an introductory course in diving with Mike Potts, a 30-year scuba veteran and manager of the longest established dive school in England.
Lunch in Swanage by the pier, then across town to the railway station.
Cutting six miles inland from Swanage, the volunteer-run Swanage Railway operates frequent steam trains to the town of Corfe Castle. We'll catch one around 3pm in order to arrive in Corfe in time for a Dorset cream tea – then it's time to visit the town's namesake castle.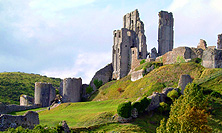 Corfe Castle is a superbly sited 11th-century fortress built astride a gap in the Purbeck Hills. In the 1640s, the castle succumbed to a siege by Oliver Cromwell's Parliamentarians (aka Roundheads). They had a hard time blowing it up, though, and in the end had to resort to trojan-horse tactics to destroy it.
In the evening we return to Swanage by train. Dinner at the Moonlight Bistro. Our B&B for the night is the Rivendell Guest House.
All text, site design, maps, and photos © David Wenk 2006 except where credited otherwise.
Be the first to hear about new adventures. Email me at wenk@btinternet.com to subscribe to my trip alert list.