Day 5 The Shipwrecks of St Aldhelm's
Tuesday 12 September
fossil hunting • dolphins ahoy • pub lunch • shipwrecks • ancient clifftop chapel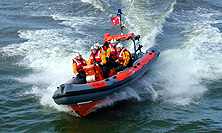 We leave Swanage early this morning by the coast path, pausing briefly to visit the RNLI lifeboat station near Peveril Point. It's next door to the Wellington Clock Tower, a local landmark. This clock once formed part of London Bridge, but was transported here from the capital in 1860 by the eccentric Swanage native and construction magnate George Burt. The rest of the bridge wound up in Lake Havasu City, Arizona.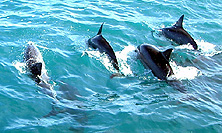 The coast here is rich in fossils. Remnants of prehistoric turtles, crocodiles, and iguanodons have been found all along Durlston Bay.
Keep an eye out for dolphins, guillemots, and razorbills at Durlston Head, where the calm waters of Poole Bay give way to the wilder seas of the English Channel. We'll stop to visit the castle just inland from here – another of Burt's follies. His memorial stands in the castle grounds: a 40-ton globe of the world carved out of local stone.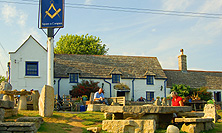 From here we head west along high cliffs via Tilly Whim Caves to the well-kept little village of Worth Matravers. Lunch here at the Square & Compass pub, which serves good hard ciders and has a pleasant beer garden.
Afterwards we return to the coast path to visit the isolated 12th-century chapel of St Aldhelm, named after a scholarly priest of the Dark Ages. Nobody is certain why the chapel was built on such a windswept headland, but there's a theory the church may once have functioned as an ancient lighthouse.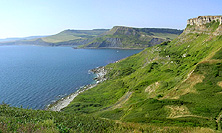 This is a treacherous coast for shipping. In 1786, 166 people died when the merchant ship Halsewell, bound for India, broke up in a storm off the cliffs near St Aldhelm's Head. Dozens more vessels have met similar fates over the years here. More recently, the freighter Aeolian Sky sank near here in 1979 while carrying a cargo of Marmite and banknotes.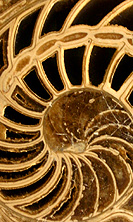 Afternoon swim at Chapman's Pool, a secluded cove. Good fossil hunting here. Getting to the beach requires a steep climb down, but it's worth it.
By evening we'll have reached the marine wildlife preserve at Kimmeridge Bay. Sunsets here are often stunning – especially when the dying light makes the beach's bright ammonite fossils sparkle against the dark shale of the cliffs.
A path leads up the hill to Kimmeridge village, where we're staying the night at 14th-century Kimmeridge Farmhouse.
All text, site design, maps, and photos © David Wenk 2006 except where credited otherwise.
Be the first to hear about new adventures. Email me at wenk@btinternet.com to subscribe to my trip alert list.